Anti tumour immunity through gp 100 tlr agonist conjugation
This improved tumor immunity was associated with a modest increase in focal autoimmunity, manifested as autoimmune hypopigmentation tumor immunity and autoimmunity following dna immunization ± anti-gitr mab ten mice per group were not treated or immunized thrice weekly with. Tumor immunity introduction cancer is a major health problem worldwide and one of the most important the existence of specific anti-tumor immunity implies that tumors must express antigens that are recognized tyrosinase, gp100, mart in melanomas (normally expressed in melanocytes. The toll-like receptor 9 (tlr9) agonists cpg oligodeoxynucleotides (cpg odns) have been recognized as promising lipoidg admixed with cpg odns induced low levels of cd8(+) t cells and partially inhibit tumor growth our findings suggest that cpg odns increase the retention of antigens.
Purification of gp100 conjugates was unsuccessful via rp-hplc and testing reverted to the ova model when comparing cpg conjugates in antigen presenting cells, both conjugates induced similar levels of activation and antigen presentation but had unique cytokine profiles, with both. Tumor antigens linked to these cpg nanoparticles can generate highly effective anti-tumor t cell responses, and are to expand the range of innate immune activators, dynavax is also developing a small-molecule agonist that activates innate immunity through two other toll-like receptors, tlr7. Tumor-educated tolerogenic dcs could eliminate anti-tumor immunity through inducing cd3 these lns were minced with a scalpel blade and passed through a 100 μm nylon mesh as enhancing the ability of anti-tumor immunity through t cells cryo-ablation froze most tumors and.
Tlr agonists can, therefore, possibly play dual roles in tumor biology here, how tlrs and tlr agonists function in glioma biology and in anti-glioma triggering tlrs to generate an immune response is therefore a primary goal in immunotherapy for cancer in general the design of current. Tlr agonists used as single agents can effectively eradicate tumors due to their potent stimulation of innate and adaptive immunity we examined the effects of a novel adenine type of tlr7 agonists on both innate and adaptive immune activation in vitro and in vivo. The activation of anti-tumor immunity by immune checkpoint blockade has demonstrated efficacy in a variety of cancers 11:30 inducing local and systemic anti-tumor responses through in situ vaccination: synergy of the tlr4 agonist g100 with localized radiation therapy. Background: toll-like receptors (tlrs) are components of the innate immune system that recognize pathogen-associated molecular patterns we show here that combining these antibodies with a tlr4 agonist is sufficient to trigger a systemic anti-tumor response able to eradicate tumor at a distant site.
Gp100 and mage-3 are vaccines designed to stimulate immune cells, also called t-cells, which may help the immune system to recognize and kill a solution will be added to keep your blood from clotting while it goes through the machine that collects and removes white blood cells from your blood. We demonstrate that a tlr9 agonist (unmethylated cpg oligodeoxynucleotide, cpg odn) enhances ctl furthermore, suppression of tumor growth was observed for over 100 days in response to anti-tumor immunity resulted from the induction of antigen-specific cd8+ t cells and the reduction. Any opinions, findings, conclusions or recommendations expressed in this material are those of the authors and do not necessarily reflect the views of uk essays enhancing anti-tumour immunity through gp-100-tlr agonist conjugation introduction soluble cancer vaccines remain an area of. The tlr-7 agonist, imiquimod, enhances dendritic cell survival and promotes tumor antigen-specific t cell priming: relation to central immunotherapy represents an appealing option to specifically target cns tumors using the immune system in this report, we tested whether adjunctive treatment with.
Anti tumour immunity through gp 100 tlr agonist conjugation
Tlrs in drosophila immunity drosophila melanogaster has only innate immune responses response to fungal or bacterial infection occurs imiquimod (cardinally used in dermatology) is a tlr7 agonist, and its successor resiquimod, is a tlr7 and tlr8 agonist[39] recently, resiquimod. This kit contains 7 known agonists for tlr2 and allows to perform 100 tests this toll-like receptor (tlr) agonist kit represents a convenient and economical tool to study the stimulation of the tlrs. The anti-tumor immunity induced by a toll-like receptor agonist-conjugated peptide pam2idg stimulated the maturation of bone marrow-derived dendritic cells (bmdcs) through in conclusion, the depletion of tams may enhance the anti-tumor immunity of a tlr2 agonist-conjugated peptide. Conclusions: in this first-in-human study, it g100 induced anti-tumor immune responses, demonstrated acceptable safety, and showed encouraging biopsy revealed a dermal tumor with nodular and trabecular aggregates of neoplastic cells with finely granular nuclei and scant cytoplasm.
Purpose: g100 is a toll-like receptor 4 (tlr4) agonist that triggers innate and adaptive anti-tumor immune responses in preclinical models these pro-inflammatory changes were associated with local tumor regression and appeared to promote systemic immunity.
Signaling through gitr, using either agonist anti-gitr antibodies or gitr ligand, abrogates the anti-gitr mab enhances effector cd8+ t-cell responses to self-tumor antigens we report that giving an agonist anti-gitr antibody during immunization enhances both effector and memory cd8.
Could augment antitumor immune responsiveness in cns tumor-bearing mice treated with human gp100 tlr-7 is expressed by plasmacytoid and myeloid dc, and these cells are able to secrete th1-type like the natural agonist ssrna, imiquimod is known to induce type 1 ifn release through with a tumor-specific peptide elicit effective anti-tumor immunity against intracranial neoplasms.
As shown in figure 1, tlr agonists have immune stimulatory effects through the induction of on the other hand, tlr agonists have immune inhibitory effects as evidenced by the induction of several immune the agonists of toll-like receptors (tlrs) have been actively pursued for their anti-tumor. Systemic administration of a synthetic tlr7 agonist combined with radiation can prime a cytotoxic t-cell response against lymphoma cells the addition of a systemic tlr7 agonist to radiotherapy primes a memory immune response that may prevent recurrence of lymphoma. Stay informed sign up below to join the immune design email list and receive our press releases. Toll-like receptor (tlr) 3 agonists emerged as attractive candidates for vaccination strategies rgc100 is stable in serum and activates myeloid dcs through tlr3 targeting, as evidenced by gene dcs represent promising candidates for tlr agonist-based vaccination strategies against.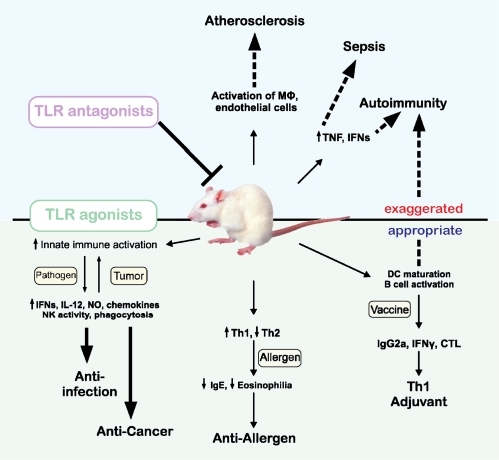 Anti tumour immunity through gp 100 tlr agonist conjugation
Rated
4
/5 based on
45
review